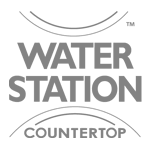 WATER STATION™ - Countertop Convenience
Linis™ Countertop Water Stations™ fit in places where others can't!
These bottle-less, plumbed-in systems feature large capacity stainless steel water storage tanks for a continuous supply of hot or cold drinking water right where you need it.

Water Stations™ replace expensive, unsanitary and cumbersome bottled water coolers and fountains with a clean, convenient, environmentally friendly and economical solution.

Big Features in a Small Package

1-gallon Stainless Steel Cold Tank
.5-gallon Hot Tank
Push-Button Dispense
Low Height (only 16 1/2") fits under standard cabinets
Indicator lights on front panel for heating and cooling
Tall 10" dispense area
High flow dispensing rate
Continuous Water Supply
Energy Efficient
Environmentally Friendly
Convenient - Economical - Delicious